Siemens PLC scrap metal recycling plant / waste car recycle plant for automobile or metal drum
Typical Application:
Electronic Scrap - WEEE Directive Materials
Steel Scrap - Various metal scrap, metal drum, paint bucket, gasoline drum, bicycle, color steel tile, steel sheet etc
Aluminum - Castings, Profiles, UBC's etc.
ELV's (End of Life Vehicles) - Pre-shredded vehicle bodies
SLF (Shredder Light Fraction), ASR (Auto Shredder Residue)
Shredwell metal scrap recycling plant is designed to recycle ferrous and non-ferrous metal , which is cost-effective, safe and durable.
The scrap car recycling plant adopts a specially designed heavy duty MS series Metal Shredder Recycling Machine for the preliminary shredding, and a heavy-duty HS series Hammer Shredder Recycling Machine for further processing. After that a Dust collection system for removing the dust, a powerful magnetic separator is used for separating the ferrous metal, and an effective eddy current separator to remove the non-ferrous steel.
We offer both medium and high capacity plants which benefit from low maintenance & operational costs, and lower capital investment when compared with traditional system.

Optimum shredding: Specialised shredder system reduce the scrap car into small chips.
Easy to operate: Siemens PLC.
Long-life serving: Reliable material of every part ensuring sustainable production.
Low power consumption: Patented technology makes low power needed to run this machine, decreasing investment amount and operation cost.
Maximum throughput: High precision sorting system, providing higher output capacity and better quality.

1. Metal Shredder in metal recycling plant
Shredwell Metal Shredder as scrap metal recycling machine is specially designed for shredding waste metal like car, steel, aluminum, steel wire, cooper into clean-cut primary scraps down to size. with the special design of low speed, high torgue operation, minimized noise and power consumption high production. Metal shredder features a patented knife system manufactured for extremely durable and easily-replacing knife which result in giving the input metal clean and fast cut. The unique structure of the knives in this machine can provide over hundreds of thousand tons working life. And the knives can be replaced partly to save maintenance time and cost for our customer.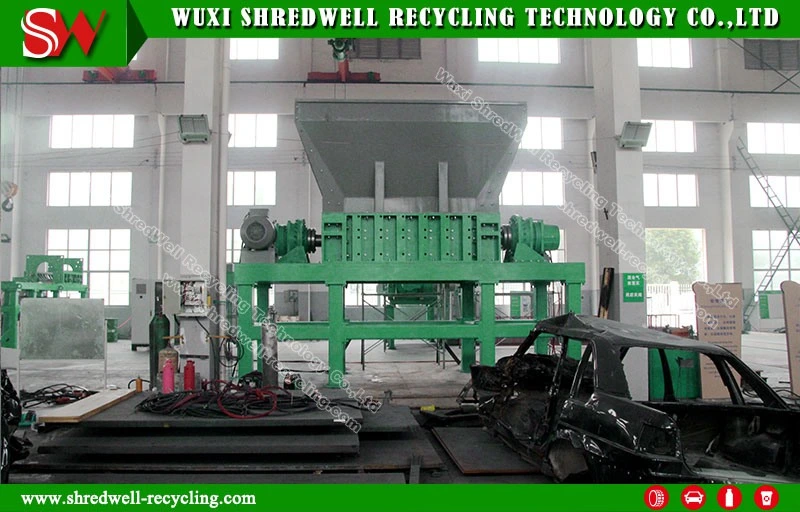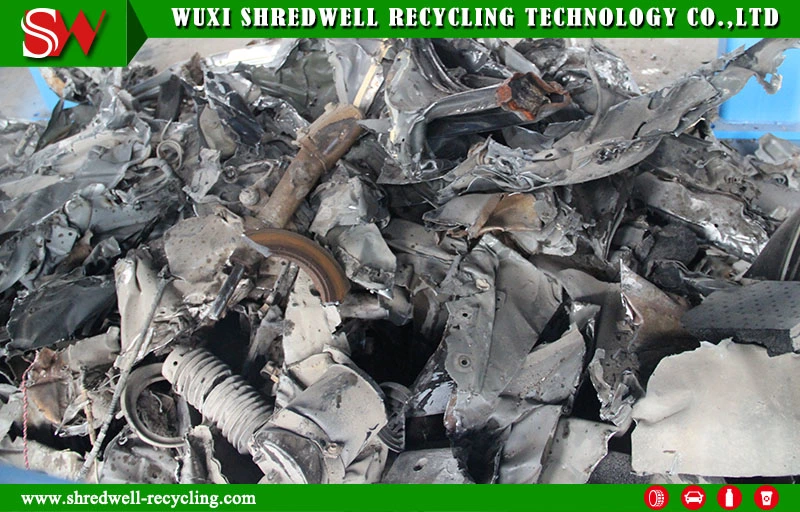 Technical Specification for metal recycling machine-metal shredder
| | | | | | |
| --- | --- | --- | --- | --- | --- |
| Metal Shredder | MS2400 | MS1800 | MS1600 | MS1300 | MS1200 |
| Motor | Siemens | Siemens | Siemens | Siemens | Siemens |
| Power | 110kw*2 | 75Kw*2 | 45Kw*2 | 45kw*2 | 45Kw*2 |
| Voltage | as per request | as per request | as per request | as per request | as per request |
| Cutting ChamberL*W | 2400*1800 | 1804*1410 | 1504*1360 | 1304*920 | 1204*920 |
| Blade Diameter | 200mm | 750mm | 560mm | 450mm | 450mm |
| Equipment DimensionsL*W*H | 7300*2438*1046 | 5870*2450*3890 | 5260*2420*3890 | 5120*2010*3100 | 5010*1710*3100 |
| Equipment Weight | 56000kg | 25000Kg | 2200Kg | 17500kg | 15500Kg |
| Hopper OpeningL*W*H | 3711*2438*1046 | 2790*2450*1100 | 2760*2410*1100 | 2050*1650*1000 | 1850*1650*900 |
| Final Product | 50-200mm | 50-150mm | 50-150mm | 50-150mm | 50-150mm |
2. Hammer Shredder in scrap metal recycling plant
Shredwell Hammer Shredders are aggressively size reduce and densify preshredded material whilst liberating the various different fractions and allowing for better separations and reduced transport costs. It contains a horizontal rotating shaft which hammers are mounted. The hammers are free to swing on the ends of the cross, or fixed to the central rotor. The rotor is spun at a high speed inside the drum while material is fed into a feed hopper. The material is impacted by the hammer bars and is thereby shredded and expelled through screens in the drum of a selected size. Then create a product which is both clean and of high bulk density suitable for transportation.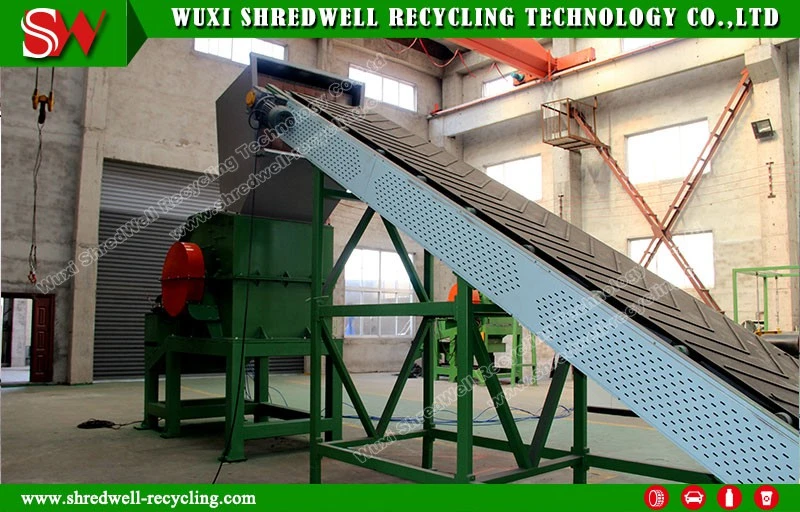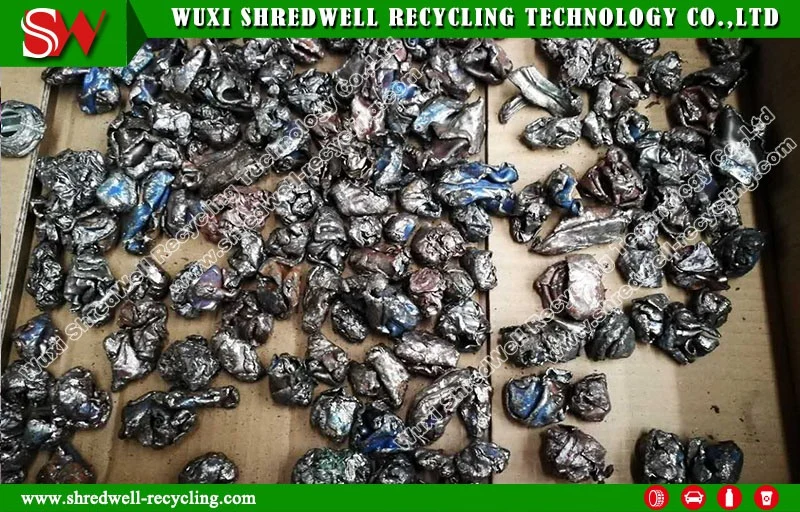 Technical Specification for metal recycling machine-hammer shredder
| | | | | | | | |
| --- | --- | --- | --- | --- | --- | --- | --- |
| Metal Crusher | HS1280 | HS1210 | HS1214 | HS1680 | HS1690 | HS1614 | HS1815 |
| Motor | Siemens | Siemens | Siemens | Siemens | Siemens | Siemens | Siemens |
| Power (Kw) | 75-132 | 110-200 | 200-315 | 132-200 | 260-400 | 315-500 | 400-500 |
| Voltage | as per request | as per request | as per request | as per request | as per request | as per request | as per request |
| Infeeding size (mm) | 1200 | 1200 | 1200 | 1200 | 1200 | 1200 | 1200 |
| Output size (mm) | 20-120 | 20-120 | 20-120 | 40-120 | 50-200 | 50-200 | 50-200 |
| Capacity (t/h) | 2-3 | 3-5 | 4-6 | 3-5 | 5-8 | 6-10 | 8-12 |
Delivery &Shipping
1.A layer of plastic wraps to protect metal recycling machine from dust, moisture and corrosion.
2.Wooden case is used as the outside package. Or according to the customer requirements.
3.Excellant logistic team to guarantee the shredder machines to be safely shipped to customer warehouse, no extra fee on export or import on custom.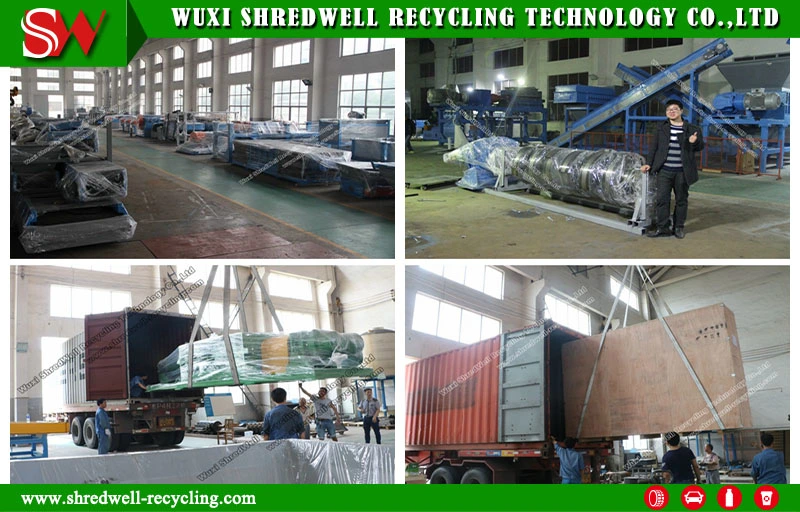 Shredwell Service
1. Pre-sale support
*Shredwell is composed of experienced specialists, our sales are engineers too, we will offer a suitable solution according client's requirements in time and 24 hours service is probided.
*On-site inspection
2. After-sale service
*Production process follow up, on-processing products' pictures and technical report are supplied regularly to make sure the contracted production schedule.
*Shredwell skilled technicians are available to assist with onsite installation, commissioning & training on request. This will enable customers to optimize the performance of their new plant. Customers will be briefed on all aspects relating to operation and maintenance by a Shredwell technician. Dimensional drawings together with service requirements will be provided prior to delivery of the equipment, which make time for our customer to prepare the site and commence production in time.
3. Technical support
*Shredwell provides enough hardware resource especially for large-scale production lines, clients can carry out installation, commissioning and acceptance before delivery.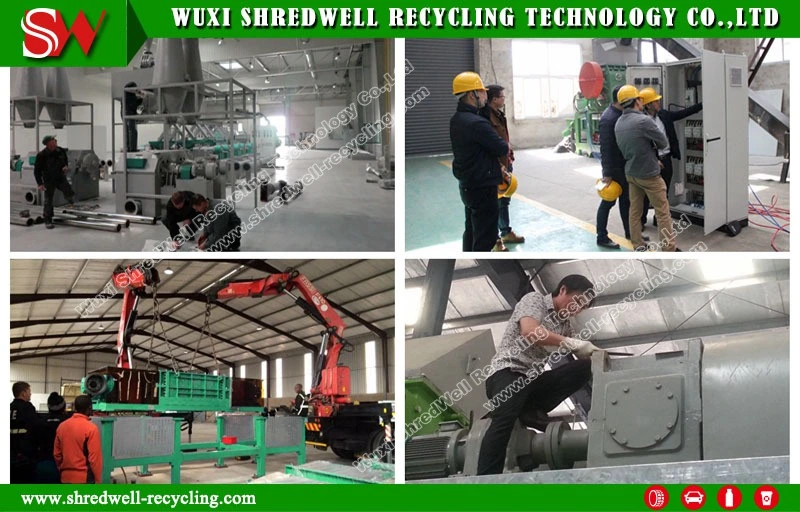 Company Introdution
Wuxi Shredwell Recycling Technology Co.,Ltd is an integrated enterprise that is committed to developing, designing, manufacturing, selling and installing shredding recycling machinery. Our equipment is based on self-owned intellectual property and has advanced European and American technology.

Shredwell has now been in the shredding and recycling industry for more than 10years. Our engineering team has around 15 years experience in designing and manufacturing tire shredding machine systems. Our workforce has more than 5 years experience in manufacturing shredding machinery. Our company has advanced technologies, an experirenced workforce and excellent innovative management systems designed to manufacture safe, energy-saving, stable and reliable shredding machine systems.

Shredwell is located in Wuxi, China, covering an area of more than thirty thousand square meters, and has a modernized technology center and all kinds of processing and testing equipment with more than 100 experienced staff including over 30 professional engineers. Our main focus is to provide our customers cost-effective metal recycling plant, tire recycling plant, wood recycling plant.

Our experienced after-sales service team can ensure the most timely installation, testing and training in the customer's workshop. Our mission is to provide our customers the best recycling solutions with high quality service and technology.
Professional fully automatic metal recycling machine supplier: Shredwell recycling.