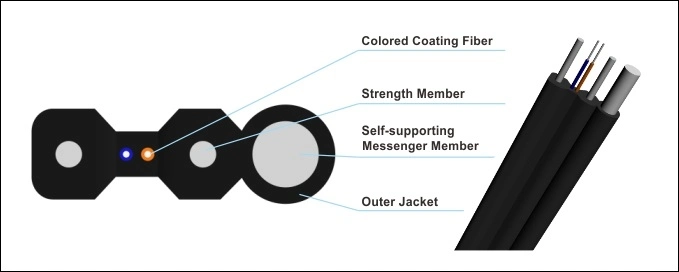 Product Description
Fiber Single Mode 9/125 OS2, FRP Strength Member, LSZH , Butterfly Flat Indoor FTTH Drop Cable GJXFH
GJXFH FTTH Indoor Drop Cable uses butterfly flat structure, whose optical fiber unit is positioned in the centre. Two parallel Fiber Reinforce Plastic (FRP) strength members are placed at the two sides. Then, the cable is completed with LSZH sheath.
Features
- Good waterproof performance
- Low smoke, zero halogen and flame retardant sheath
- Smaller diameter, simple structure, light weight, and high practicability
- FRP strength member ensures anti- electromagnetic and crush resistance
- Special low-bend-sensitivity fiber provides high bandwidth data transmission
- Novel flute design, easily strip and splice, simplify installation and maintenance
- Access network
- Local area network (LAN)
- Used end users directly cabling
- Fiber optic communication system
- FTTH indoor cabling and distribution
Application
Butterfly Flat Indoor Drop Cable is widely used in fiber to the home (FTTH) network system, which can directly connect the communication line from the LAN to the end users. Butterfly flat drop cable uses special low-bend-sensitivity fiber to provide high bandwidth and excellent communication transmission, it's very suitable for indoor cabling, end users directly cabling, and access network.
Product Construction:Fiber:
1-4 fibers
250um colored coating fiber
Strength Member:
Steel wire or FRP (Fiber glass reinforced plastic)
Messenger Member:
Phosphatized steel Wire or zinc-coated wire
Outer Jacket:
UV and flame resistant LSZH
Features:
Good UV and flame resistant.
Bow type flat structure.
Compact, soft, flexible, easy to install.
Fig8 self-supporting design.
Designed for use with cheap attachment hardware.
Applications:
Used in access network or as access cable from outdoor to indoor
in customer premises .
Used as access building cable in premises distribution system,
especially used in indoor or outdoor aerial access cabling.
Options:
Fiber Type: G.652D, G.657A1 or G.657A2 single mode fiber
Fiber colors: