Arch Film Agriculture Greenhouse for Vegetable and Garden
Arch film greenhouse is a kind of economical greenhouse, which is welcomed by users with its graceful curve form and low cost. It has beautiful appearance, fluent visual, reasonable structure and good thermal insulation performance. It belongs to economical greenhouse because of its relatively low manufacturing cost. The top cover material is polyethylene lifelong anti-fog and anti-dripping film covering. The outer of it has the function of UV-resistant and the inner has the function of dew formation resistant. According to the needs of customers, the sides of the greenhouse can be covered with polyethylene lifelong anti-fog, anti-dripping film covering or polycarbonate hollow plate.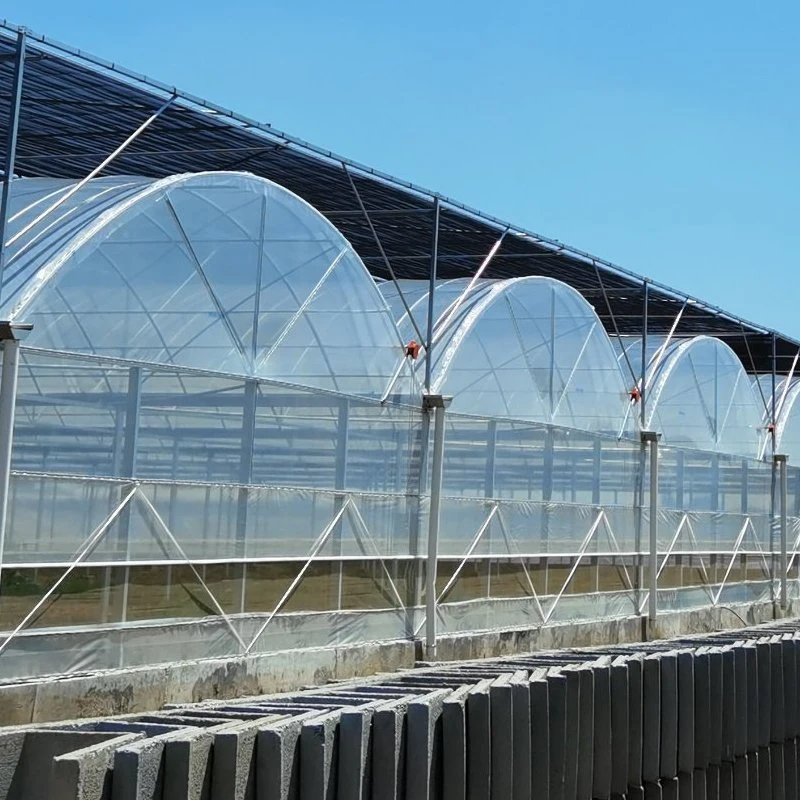 Features
1) Beautiful appearance
2) Fluent visual
3) Reasonable structure
4) Good thermal insulation performance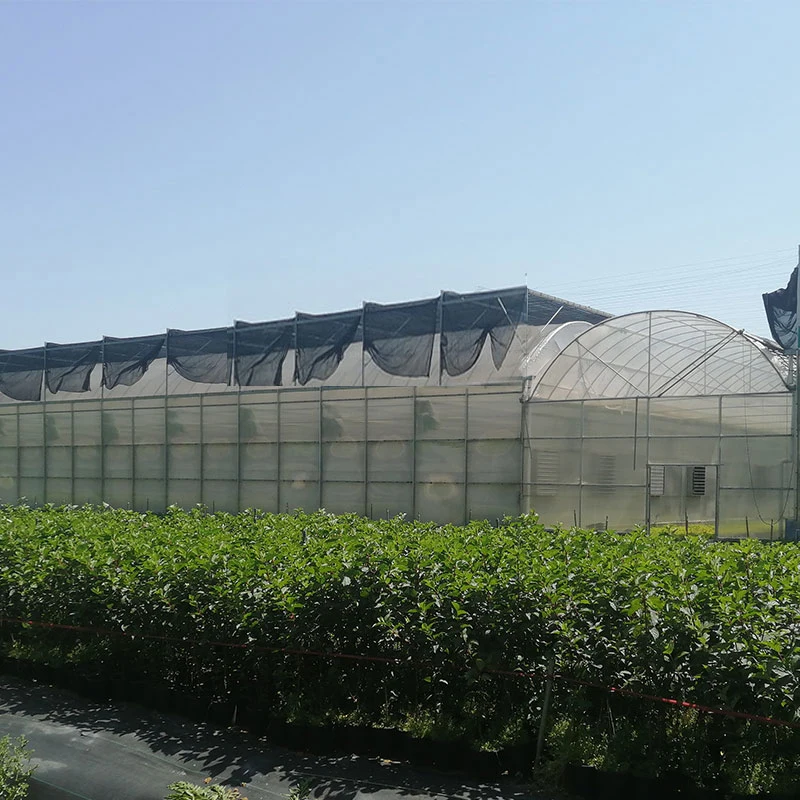 Skeleton
Main structure of this greenhouse uses cold rolled high frequency welded pipe and connects by hot dip galvanized bolt, which results good anti-corrosion performance.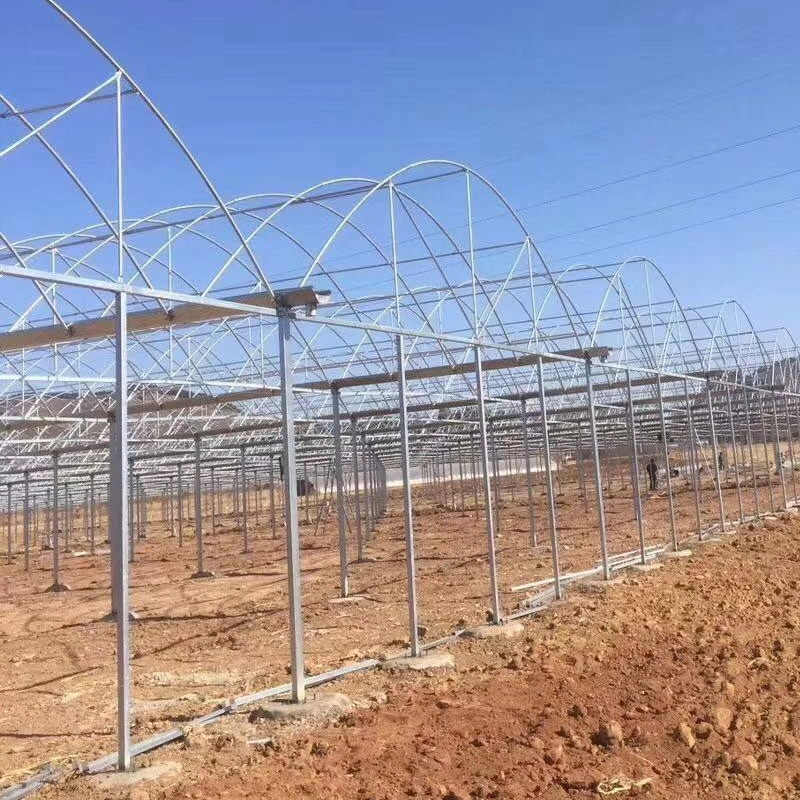 Cover Material
The top cover material is 8-20 micron film. The outer of it has the function of UV protection and the inner of it has the function of preventing from the sets of dew. According to the needs of customers, the sides of the greenhouse can be reinstituted.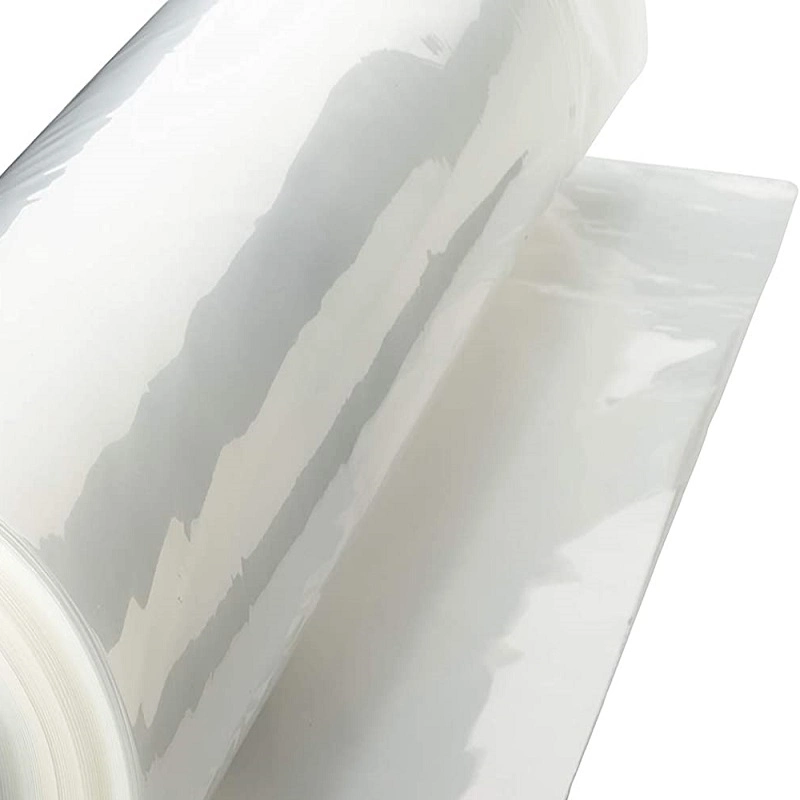 Optional Systems
| | | | |
| --- | --- | --- | --- |
| 1 | Heating system | We provide a series of boiler with high and new technology, which use circulating combustion technology making the combustion more sufficient, at the same time, increase heated area and generate uninterrupted a lot of hot water in a short period. | |
| 2 | Internal shading system | Setting internal shading is an effective way to save energy, shade, temperature and humidity.The unique advantage of the shading curtain is that it will reflect the sun rather than absorb sunlight, effectively reduce the greenhouse light, while reducing the temperature of crops and air. | |
| 3 | Outernal shading system | In summer, the solar radiation heat load is too high,when the external shading system is used. | |
| 4 | Water treatment | Rare flowers and plants have very high request for its irrigation water. Bad quality can affect the growth of flowers and color beauty , and it also affect the flexibility of leaves and flowers which may become fragile. | |
| 5 | Fan | Reasonable design, low noise, big air volume, strong wind, low operation cost;Air downstream synthetic type PVC blinds or aluminum shutters with oxidation resistance, light weight, deformation, flexible open, and it also can prevent air driven back | |
| 6 | Cooling pad | Corrugated paper uses space cross-linking technology, which make it with high water absorption, high water resistant, mildew resistance, corrosion resistance, long service life. | |
| | |
| --- | --- |
| Manufactoy | Xinhe Greenhouse |
| Span | 6m/8m |
| Gutter height | 4m/6m |
| Covering | PO/PE film(0.15mm) |
| Wind load | 0.45KN/m2 |
| Snow load | 0.4KN/m2 |
| Greenhouse column | 30 years |
| Greenhouse accessory | 10 years |
| Polycarbonate sheet(6mm/8mm/10mm) | 10 years |
| Inside shadow system | 5 years |
| Outside shadow system | 5 years |
| Inside heat-insulation system | 5 years |
| Exhaust fan | 6 years |
| Cooling pad | 4 years |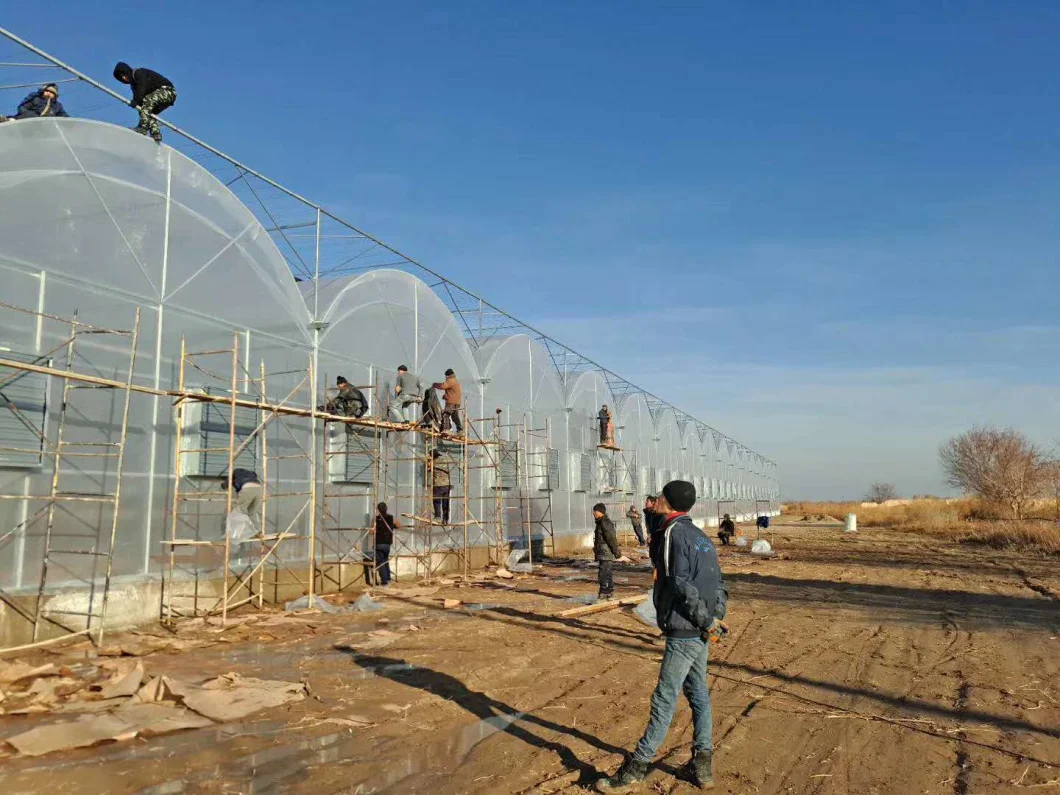 . is a professional company which sets greenhouse and supporting facility design, manufacture and research&development in one. The major products include flower market greenhouses, planting greenhouses, aquaculture greenhouses, livestock breeding greenhouses, ecological restaurant greenhouses, sunlight-plate greenhouses, photovoltaic solar energy greenhouses, plastic film greenhouses and corresponding accessories.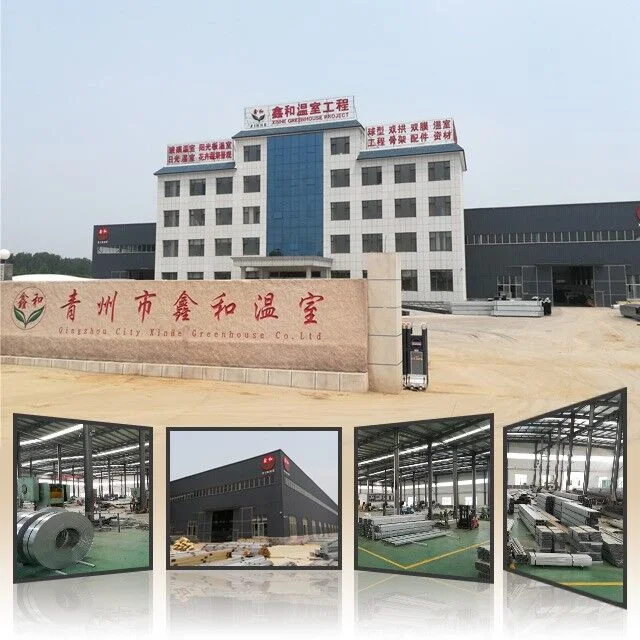 1. Reliable design: We have numorous patent rights in greenhouse field and occupy the leading positon of the greenhouse.
2. Strong technology team: Professional R&D center guarantee top quality and advanced reliable design for each project.

3. Personal customization: All the greenhouse design is made according to customers' local climate condition and requirements.

4. Good after-service: We could send engineer go abroad for correct installation, horticultural service and other service for you.

5.Quality warranty: If any parts or structure has some probelm within warranty period,we will maintain or change free of charge.
1. How long is the delivery time?
According to your greenhouse size and system, the delivery time is usually 10-60days.
2. How long is the warranty period?
Different parts have different warranty, usually the electric machine guarantee 1 year, the steel structure 5years, glass 1 year, sunshade net 2-3years, etc.
3. Is your company foreign trade company or manufacturer?
we are manufacturer.
4. Can you supply sample?
Small parts can be supplied, but you should pay the express.
5. Can your company supply greenhouse design?
Our company can give greenhouse design according to your land and plan after deposit. And we can give simple drawing before signing contract.
6. How to install greenhouse?
First we prepare the material and export.
After your customs clearing, we send 2-4 engineers or all workers to guide to install.
If you want to save money, we only send engineers, and you match local workers. If you think it is hard to do, we also can send engineers and workers to install for you.
7. When installing, what cost should we pay?
our engineers and workers visas and round-trip tickets, their foods and accommodation, their communication.
8. What is the payment terms?
usually the deposit is 30%-50% of total value. Before loading, all the balance should be paid off. Or you can give your own payment terms, then we can negotiate it.